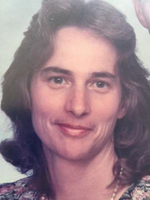 Barbara Watson
Barbara Watson, aged 69 passed away on November, 4th 2022. Barb was born in Glen Ridge, raised in Cedar Grove and was a proud resident of Hamilton, NJ for over 25 years. Proceeded in death by her parents, Margaret Mannion (Murphy) and Joseph Mannion and brothers, Michael and Stephen Mannion. She is survived by her husband, Robert Watson, son Joseph Watson, brother Patrick Mannion, niece Heather Mannion, along with Patricks family.
Barbara was an esteemed legal secretary and worked for many high end firms throughout her career. She cared very much for her work and was always respectful and considerate of her co-workers. She ended her career by retiring from the West Windsor Township Municipal Office in 2018.
Barbara was a songbird, always humming or singing her favorite songs. She had a beautiful voice. She enjoyed going on hikes, scenic walks, traveling, line dancing and playing games on her iPad with her friends. Barbara was a fighter! No matter what situation she was going through, she always kept a cool head and pushed forward. She was selfless, respectful of everyone and especially loving of her family.
If desired, donations can be made in Barb's name to St. Mark's Lutheran Church, in Hamilton, NJ. We want to give a special thanks to the Fox Chase Cancer team in Philadelphia. They were especially loving and took care of Barb every second she was there.
A memorial service will be held at St. Mark's Lutheran Church on White Horse Ave., Hamilton, NJ 08610. On Nov. 18th, at 10am, we will have a meet and greet at the church. A service will begin at 11am. Afterwards, we'll have a catered Irish Wake at Killarney's Publick House. Arrangements are under the care of Knott's Colonial Funeral Home 2946 South Broad Street Hamilton, NJ 08610.