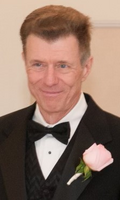 Bruce V. Darvas
Bruce V. Darvas, 73, of Hamilton, passed away on September 19, 2022. Born in Trenton, Bruce has been a lifelong area resident. He was a graduate of Hamilton High School West, Class of 1968, and the Philadelphia College of Pharmacy and Science. Bruce spent his entire career as a licensed pharmacist. Bruce was also a Ham Radio Operator. He was a member of the Civil Air Patrol and the Red Cross. He was a devoted animal lover, and enjoyed volunteering at many animal charities. He was also a member of the Camp Olden Civil War Roundtable, the Hamilton Twp. Republican Club, and was a former member of the Hamilton Twp. Republican Committee.
Son of the late Victor and Anna (Semeneschin) Darvas, he is survived by his loving wife of 46 years, Dolores (Pitman) Darvas of Hamilton, his sons Dennis V. Darvas and his wife Jennifer of Trevose, PA, and Bruce R. Darvas and his wife Cashel of Hamilton, three grandchildren Zachary, Reagan, and Abigail, his brother Robert Darvas and his wife Ginny of High Bar Harbor, NJ, his niece Christine Darvas, nephew Robert Darvas, and many other nieces and nephews.
The funeral service will begin at 11:00am on Friday, September 23, 2022, at Knott's Colonial Funeral Home 2946 South Broad Street Hamilton, NJ 08610. Calling hours will be held from 9:00am to 11:00am at the funeral home. Interment will be in St. Stephen's Cemetery, Clover Ave. Hamilton, NJ 08610. In lieu of flowers memorial contributions can be made to any charity that benefits animals. Condolences for the family can be left at www.knottscolonialfuneralhome.com.