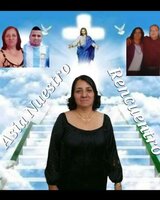 Floridalma Gramajo-Flores
Floridalma Gramajo-Flores, 59, of Trenton, passed away on August 1, 2022. Born in Guatemala, she has been an area resident for the past 41 years.
Wife of the late Eswin Flores, and mother of the late Jimmy Flores, she is survived by her son Eswin G. Flores of Trenton, her grandchildren Zuri Isabella Morton, Christopher Flores, and Joseph Flores, her brother Eddie Gramajo of Trenton, and several nieces and nephews.
The funeral mass will be celebrated on Tuesday, August 9, 2022 at 10:30am at St. Joseph's Catholic Church 540 N. Olden Ave. Trenton, NJ 08638. A calling hour will be held at the church from 9:30am to 10:30am. Interment will be in St. Mary's Cemetery 1200 Cedar Lane Hamilton, NJ 08610. Arrangements are under the care of Knott's Colonial Funeral Home 2946 South Broad Street Hamilton, NJ 08610. Condolences for the family can be left at www.knottscolonialfuneralhome.com.