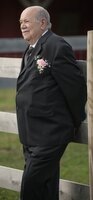 John Schujko
John Schujko, Jr., 86 of Bordentown, passed away on May 22, 2022 at home, surrounded by his loving family. Born in Yugoslavia, he came to the United States when he was 14 years old. He was employed by Marazzo's Auto Body for over 30 years before retiring in 2003. He enjoyed fishing and crabbing, gardening, and taking his family on long trips. He was a true family man.
Son of the late John Sr. and Magdalena (Heideger) Schujko, and husband of the late Frances E. (Roller) Schujko, he is survived by his children Nancy Bacon and her husband Michael Sr. of Hamilton Square, Carol Schujko and her boyfriend George Sheldon of Hamilton, Jo Anne and her husband LCDR Mark A. Miller of Ocean Side, CA, Deborah Barrett and her husband Charles of Bordentown, and David Schujko, Sr. and his wife Maegan of Hamilton, his grandchildren Michael Bacon, Jr. (Maureen), Mallory Lunetta (Joel), Emily Bermudes (Kevin), Heidi McLaughlin (Sean), John Bacon, Zachary Miller (Megan), Brandon Miller, Matthew Miller, Alexandria Schujko, Chuckie Barrett, Andrew Barrett, Charidee Barrett, Destinee Barrett, Jimmy Chaconas, Micaela Schujko, and David Schujko, Jr., 6 great-grandchildren, his brother Anton Schujko and his wife Julie of Yardville, his nephew Karl Schujko and his wife Jen, and his niece Linda Ackerson and her husband Jim.
The funeral service will be held on Wednesday, June 1, 2022 at 10:00am at Knott's Colonial Funeral Home 2946 South Broad Street Hamilton, NJ 08610. Calling hours at the funeral home will be on Tuesday, May 31, 2022 from 5:00pm to 7:00pm, and on Wednesday morning from 9:00am to 10:00am. Interment will be in the Brigadier General William C. Doyle Veterans Memorial Cemetery 350 Province Line Rd. Arneytown, NJ. In lieu of flowes, memorial contributions can be made to Greater Europe Mission attn: Ministry of Lunetta 26825 (www.gemission.org/missionaries/lunetta). Condolences for the family can be left at www.knottscolonialfuneralhome.com.