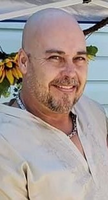 Barry E. Hutchins, Jr.
Barry E. Hutchins, Jr., 55, of Browns Mills, passed away on March 19, 2022.
Barry was born in Jersey City, NJ. Barry's lifelong passions include a vast variety of all different things like singing and playing guitar, writing poetry, photography and drawing, but most of all being a husband to his wife Diane of 20 years, a father to his 4 daughters, and grandfather to his 8 grandchildren.
Son of the late Barry E. Hutchins, Sr., he leaves behind his wife Diane (Slovinsky) Hutchins, his mother and step-father Pauline (Oliver) and Al Zawadsky, his daughters Angel Bertucci and her husband Christopher Maute, Bristel Castrogiovanni and her husband Joseph, Cheyenne Hutchins and Joseph Allen, and Jordan McCoonse, his grandchildren Kyle Bertucci, Jayden'Liam Castrogiovanni, Hunter Bertucci-Maute, Colton Bertucci-Maute, Reilly Bertucci-Maute, Domineco Castrogiovanni, Jack Bertucci-Maute, and Bella'Elizabeth Castrogiovanni, his 3 sisters Renee Hutchins, Caren Niedermeir, and Lori Hamilton, and many nieces, nephews, cousins, and friends.
His memorial service for family and friends will be held on Saturday, April 30, 2022 at 11am at the Browns Mills United Methodist Church 2 Pemberton Browns Mills Rd. Browns Mills, NJ 08015. A celebration of life fundraiser for the Tunnel to Towers Foundation will follow. Kindly omit flowers. The family requests that donations be made to the Tunnel to Towers Foundation 2361 Hylan Blvd. Staten Island, NY 10306. Arrangements are under the care of Knott's Colonial Funeral Home 2946 South Broad Street Hamilton, NJ 08610. Condolences for the family can be left at www.knottscolonialfuneralhome.com.