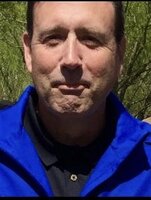 William J. Newcomb
William J. Newcomb, 59, of Virginia Beach, passed away on January 11, 2022. Born in Trenton, he has lived in Virginia Beach for the past 30 years. He was a graduate of Steinert High School, Class of 1981. He was most recently employed as a security officer at the Green Run High School in Virginia Beach. An avid sports fan, he was also a longtime basketball coach at the Brandon Middle School, and longtime baseball and tennis coach at Green Run High School. Most of all, he enjoyed spending time with his family.
Son of the late William G. Newcomb, he is survived by his children William J. Newcomb, Jr. and his wife Helene, Christopher T. Newcomb and his wife Rachel, Kyle A. Newcomb, and Alicia M. Newcomb all of Virginia Beach, his beloved mother Barbara (Ininger) Newcomb of Hamilton, grandchildren Miles, Grayson, and Charlotte, his sister Barbara C. Kocicz and her husband Mark of Wisconsin, his sister Sharon M. DeBlasio and her husband Dr. Joseph of Hamilton, his brother James M. Newcomb and his wife Christy of Hamilton, his brother John D. Newcomb of Hamilton, his former wife of 33 years Martha J. Newcomb, and many nieces, nephews, and friends.
Funeral services are pending at this time and will be announced at a later date. Arrangements are under the care of Knott's Colonial Funeral Home 2946 South Broad Street Hamilton, NJ 08610. Condolences for the family can be left at www.knottscolonialfuneralhome.com.