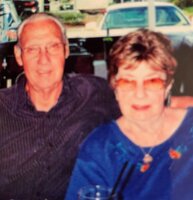 Constance J. (Keers) and Blaine L. Shaddow
Constance J (Keers) Shaddow was born February 1, 1937 in Bristol PA
Entered eternal rest May 15, 2020. She retired from NJ State Police.
Blaine L Shaddow was born August 25, 1936 Trenton NJ
Entered eternal rest June 3, 2021 retired from City of Trenton Fire Department.
After retirement the moved to Cape Coral FL where they lived for the last 20 years.
Our parents were married 63 years.
Enjoyed traveling, family camping trips, fishing, reading, and extended family gatherings. Both were proud and loving parents, grandparents, great grandparents.
Connie and Blaine are predecessors by her father Archibald Keers, her brother Archie Keers, her mother and stepfather Evelina & Steven Doskas. His parents Mary Hope & Roscoe Shaddow Jr, Sister and brother-in-law Marilyn & James Flowers, brother Roscoe Shaddow III and grandson Dustin R Kerr.
Connie and Blaine are survived by Daughter Kim Kerr & husband Bob, Blaine Shaddow Jr. Grandsons Matthew Mills, Blaine & Michelle Shaddow III, Richard Shaddow & Gine Hernandez. Great grandchildren Richard Jr, Blaine IV, Bray, Charlie, Natalie.
Connie's sister and best friend Betty & Bill Shangle, their sister-in-law Pat Shaddow.
Graveside services will be 11:30am Friday, September 10, 2021 at the Greewnwood Cemetery.
The Rev. Jessica Stenstrom will officiate.