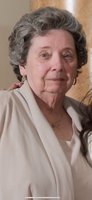 Elizabeth M. Braun
Elizabeth M. Braun, 87, of Lawrence Twp., passed away on August 1, 2021. Born in New Brunswick, she has been a longtime Lawrence Twp. resident. Betty started her culinary career cooking for over 300 seniors at the Nutrition Project for the Elderly in New Brunswick. She would later go on to retire as the kitchen manager of the Eldridge Park School, where she thoroughly enjoyed cooking for all of the children to make sure that they all had fun, healthy lunches. She loved every job she ever had and worked very hard at all of them. Betty enjoyed playing Rummy 500, Rummikub, word searches, making afghans for loved ones and the needy. She also made and donated blankets for newborns. Every blanket was made with love. Betty was an avid ceramic doll collector. She made the best potato salad, blueberry cobbler and cabbage noodles, but her greatest achievement was her family. Betty was very passionate about her grandchildren, and she cherished the time that she would spend with them.
Daughter of the late Stephen and Elizabeth (Pincz) Weiser, wife of the late Christian Braun, friend of the late John Shaw, sister of the late John S. Weiser, Margaret Ann Caufield, niece of the late Mary LeTallec, sister-in-law of the late Mercer Braun, and step mother of the late Bill Braun, she is survived by her loving children, Celeste Osworth and her husband Jason of Bayville, NJ, and Thomas Braun and his wife Shirley of Langhorne, PA, her stepson Bill's wife Norma Braun of Wildwood Crest, NJ, 14 grandchildren, 3 step-grandchildren, 13 great-grandchildren, her sisters Marion Russo and Theresa Meir, sister-in-law Ann Weiser, brother-in-law Walter Caufield, sister-in-law Sandra Braun, and a host of nieces, nephews, and friends.
Calling hours will be held on Wednesday, August 4, 2021 from 6:00pm to 8:00pm, with funeral services beginning at 8:00pm, at Knott's Colonial Funeral Home 2946 S. Broad St., Hamilton, NJ 08610. Cremation and interment of ashes in St. Peter's Cemetery, New Brunswick, will be held privately for the family. In lieu of flowers, memorial contributions can be made to the Kenney Center for Autism Education & Support 5600 City Ave. Philadelphia, PA 19131. Condolences for the family can be left at www.knottscolonialfuneralhome.com.