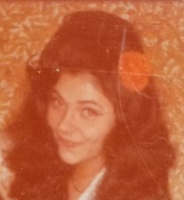 Diane F. Allen
Diane F. Allen 69 of Yardville passed away peacefully July 21, 2021 at home.
Daughter of the late Daniel Avis Allen.
Granddaughter of the late William P. & Philomena Udell.
Surviving are her mother Mary Margaret Allen of Hamilton.
Her second mother Carolyn Markley of Florida.
Sister Georgia King of Hamilton.
Brother Roger Allen of Trenton.
Lil Sister Denise Porras of Yardville.
Niece Sabrina Bickham, Nephews Donny, Mark and Benjamin Bickham.
Her adopted nieces and nephews Lovey, Tony, Matthew and their children Angel, Bria, Niles, Marissa,
Selina, Olivia and Noah.
Cremation services were private for the family. Memorial donations may be made to the charity of your choice.