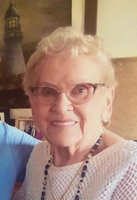 Kathryn Kaniuka
Kathryn Kaniuka, 97, of Brick, NJ, passed away peacefully on July 18, 2021. She was surrounded by the family she loved and adored. In her own words, "What a beautiful way to end." Kay was a coal miner's daughter, one of seven children, born in Clover, PA on August 22, 1923. She started her career as one of the first women to work in the Pentagon. After moving back to Trenton, she was employed by Bayer Aspirin, and she retired from Carter Wallace.
She is preceded in death by her loving husband, Paul Kaniuka, son Gregory, daughter Marianne and siblings, Dmitri Sinchock, Mary Lykosh, Helen Loden, Anne Stagg and Pearl Sinchock. She is survived by her daughters, Marcia White and husband Tom of Southport, NC, and Michelle Gerdes and husband Chris of Eagleville, PA, grandchildren, Dana and Sean White, Andrew and Alex Gerdes, her loving grand-dogs Bella and Atlas, sister Gladys Miller, 3 generations of nieces and nephews, extended family and friends, including her best friends, Rose, Anna Mae, Mary and Marge.
Kay's family meant the world to her. She was a loving wife, amazing mother and grandmother. She was loved by all who knew her, sharing countless stories and spreading her faith to others. She spent 56 years with the love of her life, Paul. Kay was a dedicated Catholic, devoted to the Blessed Mother and a faithful prayer warrior who maintained a strong relationship with God. She shared countless special moments with her prayer partner Kathy. Kay always kept those in need and those whom she loved in her prayers, an angel to so many people. She was active in Meals on Wheels, loved to walk, ride her stationary bike, bowl and you could always find her at the bingo table, a hobby that she continued later in life as she transitioned to assisted living. Kay was caring, hard-working and very intelligent. She always had a sharp mind for numbers, never forgetting a friend or family member's birthday. She instilled these same qualities in her daughters and grandchildren. Kay's greatest joy was her grandchildren, she cherished the moments she had them, casino fun, big family trips and simple phone calls.
A visitation will be held on Wednesday, July 21, 2021 from 10:00am to 12:00pm at Knott's Colonial Funeral Home, 2946 South Broad St., Hamilton, NJ 08610. It will be followed by the Funeral Mass at St. Mary's Byzantine Church, Grand St., Trenton, NJ at 12:30pm. Interment will be in the parish cemetery. In lieu of flowers, donations may be made to the American Diabetes Association (https://bit.ly/3rra5sg) the American Heart Association (https://www.heart.org/en/get-involved/ways-to-give) or St. Mary's of the Assumption Byzantine Church, 191 Norman Ave, Roebling,NJ 08554 in memory of Kathryn Kaniuka. Arrangements are under the care of Knott's Colonial Funeral Home 2946 S. Broad St., Hamilton. Condolences for the family can be left at knottscolonialfuneralhome.com.