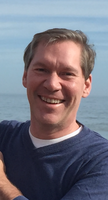 Roy "Nick" W. Nix
Roy "Nick" W. Nix III of Alexandria VA passed away suddenly on August 8, 2020. He was the son of the late Roy and Sandra Nix Jr. of Fairburn Georgia.
Nick was born in Atlanta Georgia, the oldest of four boys Michael (Stephanie), Jason (Saralee), Toby (Phov) and enjoyed reminding everyone that he was the first born and his crown was heavy. One of his greatest joys later in life was his relationship with his partner David M Broselli and their daughters Bianca and Melina Broselli who provided many years of happiness and cherished memories. Nick loved to travel with Dave and their girls and share the beauty of the many countries they traveled to.
He took his position in the family very seriously and bestowed all his wisdom on his first born nephew (Michael David Nix, Jr.). Nick was a very bright and gifted young student who graduated as a senior superlative of his high school class. He went on to study at American Christian Academy and was extremely proud when his nephew (Jason "JJ" Nix Jr.) was accepted to attend Georgia Tech. As a young adult Nick accepted a Federal Position with HHS and spent 30 years working to better the lives of children and families. As Nick held various leadership positions at his agency he was integral in establishing policy and procedures to assist states in improving their operations. Nick was a dedicated and protective friend to many people through the years and has touched the lives of people he didn't even know. He was generous to a fault and never turned his back on a friend in need, he treasured his friends and always remembered the little things that were important to them.
The holidays were made extra special as his family grew and new nieces and nephews were added, Tyler, Ryan, Matthew, Aubrey and Daevee. Nick cherished every card, letter and drawing that each child sent through the years. One of his happiest times was making his seafood feast on Christmas day when his family would gather and share old and new memories. Nick is also survived by a loving aunt Brenda Murray, her husband Gary Lawhon and many cherished cousins.
Roy "Nick" W. Nix has left behind many empty and broken hearts as well as a lifetime's worth of special moments and memories. Nick will be forever in our hearts and minds. We love you.
Due to the current situation there will not be a memorial at this time. Nick's favorite charity which he donated to regularly was St. Judes. The family suggests that in his memory any well wisher may donate to St Judes at:
https://fundraising.stjude.org/site/TR/GiftFunds/GiftFunds?px=6704446&pg=personal&fr_id=39300