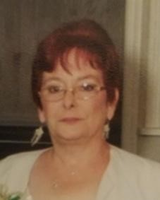 Robin G, Nemeth
Robin G. Nemeth 64 of Hamilton passed away May 23, 2019.
Wife of the late James A. Nemeth.
Surviving are her sons, Timothy A. & Laura Nemeth and Scott J. Nemeth and Fiance Sabrina Maier all of Mercerville.
4 grandchildren, Scott Z. Nemeth, Amylee Conrad, Alan Nemeth and Vanessa Skye Nemeth.
Brother in laws and sisters in law, Thomas and Sharon Nemeth and
Michelle and Matthew Wylie.
Niece, Chelsea Wylie and Nephew, Nicholas Wylie.
Relatives and friends may call Tuesday 6:00 - 8:00pm and Wednesday 10:00 - 11:00am at Knott's Colonial Funeral Home, 2946 South Broad St. Hamilton.
Family services will be 11:00am Wednesday at the funeral home, entombment in the Greenwood Cemetery Mausoleum will follow.