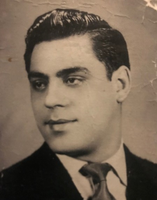 Nicholas Dimitriou
Nicholas L. Dimitriou 85 of Columbus, NJ passed away peacefully March 7, 2019 surrounded by his loving family.
Mr. Dimitriou was born in Piraeus, Greece, Came to the United States in 1960. He resided in New York and has been an area resident the past 19 years.
Nicholas served in the Greek Navy and is retired from General Motors. He enjoyed the Casino's and spending time with his family.
Son of the late Leon and Antigone Dimitriou.
Husband of the late Mary Frascello Dimitriou.
Father of the late Rose Dimitriou.
Surviving are his daughter and son in law, Rita & David R. DallePazze.
Grandchildren, Jeffrey DeLia (Jessica Realmonte), Nicole Dimitriou, David J. DallePazze and Jessica DallePazze.
Great Granddaughter Hadley Elizabeth DeLia.
many nieces and nephews.
Funeral Mass will be celebrated 11:00am Saturday March 16, 2019 at Saint Mary's Church, 45 Crosswicks St. Bordentown.
Interment will be in St. Mary's Cemetery, Hamilton.
Relatives and friends may call Saturday 9:00 - 10:30am at Knott's Colonial Funeral Home, 2946 South Broad St. Hamilton.