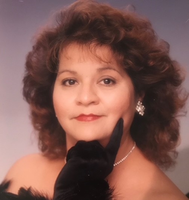 Rosie A. Cruz
Rosie A. Cruz, age 61, passed away peacefully on Monday, March 4, 2019 at her home in Hamilton, New Jersey. She was born March 5, 1957, in Weslaco, Texas, to Maria Fuentes. She met her future husband, Simon Cruz Sr. while in Florida and the two welcomed three beautiful children into this world. The family then moved to Trenton, New Jersey where they raised their family. Her children gave her four grandchildren who some will say were her greatest loves. Rosie lived life to the fullest through the simplest of ways; spending time with family and investing in her passions: cooking and baking. Rosie connected with those around her in so many ways and mainly because of her loving and funny personality. She is survived by her husband, Simon Cruz Sr.; her children, Simon Cruz Jr., Gilberto Cruz, and Vanessa Cruz; her grandchildren, Simon Gabriel Cruz, Savian Cruz, Sienna Rose Cruz, and Noel Valentino Cruz; her daughter-in-laws, Elizabeth Cruz and Emely Molina; and many siblings, nieces, nephews, and cousins. Family, friends, and others whose lives Rosie touched are invited to celebrate her life at Knott's Colonial Funeral Home, 2946 South Broad St. Hamilton.
Monday March 11, 2019 from 9:00 – 11:00am
Funeral Mass will be celebrated 11:30am at St. Joseph Church, 540 North Olden Ave, Trenton.
Interment will be in Colonial Memorial Park Cemetery.