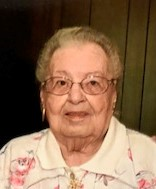 Dorothy Lattin
Dorothy E. Lattin 93 of Hamilton passed away February 22, 2019.
Mrs. Lattin was formerly employed at Hulslander Engraving Company and at Hamilton Hospital.
Daughter of the late Frank and Ruth Roberts.
Wife of the late Robert E. Lattin.
Mother of the late Donald E. Lattin.
Sister of the late Kenneth Lee Roberts.
Surviving are her 2 sons and daughters in law,
Stephen E. & Francine Lattin of Hamilton.
David E. & Virginia Lattin of Bordentown.
Daughter in law Annette Lattin of Hamilton.
Grandchildren Jodi Reynolds, Suzanne Lattin, Christine Russell, Stephen M. Lattin, Tera Baird, George Lattin, Lynette Lattin, Jessica Coombes, Kevin Lattin, Gregory Lattin and Kyle Lattin.
Many Great grandchildren and 1 great great grandson.
Funeral services will be 11:00am Friday at Knott's Colonial Funeral Home, 2946 South Broad St. Hamilton NJ
Rev. Jessica Stenstrom will officiate.
Interment will be in Princeton Memorial Park, Robbinsville
Relatives and friends may call Friday 9:00 - 11:00am at the funeral home.