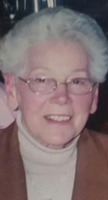 Agnes L. Hiel
Agnes L. Hiel, 92, passed away on Sunday February 10, 2019.
Funeral Services will be held on Wednesday, February 13th 2019,
at 12:00pm at Knott's Colonial Funeral Home 2946 South Broad Street, Hamilton.
Calling hours will be from 10:00am to 12:00pm. Entombment will be in Greenwood Cemetery Mausoleum.