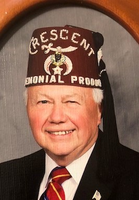 Norman G. Mathews
Norman G. Mathews 82 of Hamilton passed away January 30, 2019 surrounded by his loving family.
Norman is retired from Lockheed Martin. He was a 60 year member of the Trenton Cyrus Lodge F. & A.M. and a member of the Crescent Temple.
Also a member of the Hungarian Reformed Church, the German American Society and the Air Force Association.
Son of the late Norman & Dora Mathews.
Surviving are his wife Ilona Mathews.
2 daughters, Melisa Mathews of Hamilton and Andrea Mathews of Titusville.
2 step sons, Gavril (Gobby) Hancs and wife Eleanor of Allentown, NJ and Steven Gava of Hamilton.
2 granddaughters Alyssa Kramarz and Danielle Kramarz.
Relatives and friends may call Monday 5:00 - 8:00pm at Knott's Colonial Funeral Home 2946 South Broad St. Hamilton.
Funeral services will be at 7:00pm Rev. Lazlo Ujj will officiate.
Interment will be private for the family Tuesday at Colonial Memorial Park Cemetery.
Memorial contributions may be made to the Hungarian Reformed Church, 180 Home Avenue, Trenton NJ 08611