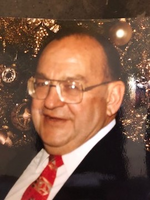 Louis J. Makrancy
Louis J. Makrancy Jr. 90 of Hamilton passed away December 10, 2018.
Mr. Makrancy was the former owner of L.J. Makrancy and Sons Landscape and Lawn Service Inc. and also of Quality Floral and Garden Center.
He was also the former manager of the Trenton Farmers Market for 25 years.
A former parishioner of St. Stephen's Church and of St. Raphael's Church.
He was a scout master for troupe 116 at St. Stephen's.
Past President of the American Hungarian Civic Association.
Son of the late Louis J. Makrancy Sr. & Elizabeth Papp Makrancy.
Husband of the late Julia Benedek Makrancy.
Father of the late Theresa M. Makrancy.
Brother of the late Madeline Makrancy and Joseph Makrancy.
Surviving are his 2 sons and daughters in law,
Louis S. & Loretta Makrancy of Hamilton.
Stephen J. & Mary Makrancy of Florence.
Grandchildren, Pam & Geof Massimini, Bethany & Bob Doohaluk, Danielle & Sammie Bell, Lauren & Tom Dark, Mary & Scot Fanning and Stephanie Makrancy.
7 Great grandchildren, several nieces and nephews.
Funeral Mass will be celebrated 11:00am Thursday at St. David the King Church, 1 New Village Road, Princeton Jct.
Interment will be in St. Mary's Cemetery.
Relatives and friends may call Thursday 9:00 - 11:00 am at the church.
In lieu of flowers memorial donations may be made to the prayer garden at St. David the King Church, 1 New Village Road, Princeton Jct. NJ 08550
Arrangements by Knott's Colonial Funeral Home, Hamilton.