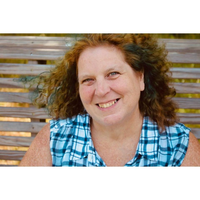 Christina Parsons Smith
Christina Parsons Smith, 59, of Ewing, passed away on December 6, 2018. Born in Hempstead, NY, she has been a Ewing resident for the past 19 years. She was employed by the State of NJ, Department of Law and Public Safety. Prior to that she ran her own child daycare center. She also worked for Knit One Stitch Too in Pennington. An avid crafter, she wasn't happy if she wasn't making something. She was a member of "Outta Sights and Sounds", and also belonged to a cancer support group, and a Mahjong group.
Daughter of the late Constance Miller Smith, and sister of the late Frank Smith, she is survived by her father, William J. Smith of Maryville, TN, her siblings, Periann Carl of Maryville, TN, Robert Smith and Donna Williams of Lexington, VA, Patricia Smith and fiancée William Devino of Winchester, NH, Nancy and Venancio Carrizales of East Chatham, NY, Dawnald Smith and Jackie Cutting-Smith of Waxhaw, NC, nieces and nephews, Danielle and Alexandra Carrizales, and Rebecca and Devon Smith, her Godson, Christopher Hardy-Goldenberg, and her precious pet, Declan.
A celebration of her life will be planned at a later date. In the meantime, please feel free to share stories on Chris' Facebook page (https://www.facebook.com/profile.php?id=100003013385722).
In lieu of flowers, memorial contributions may be made to either the Virginia Sexual & Domestic Violence Action Alliance (https://actionalliance.salsalabs.org/maindonationformcopy1/index.html?fbclid=IwAR3eX04TFeSHw_xGiRUu3tjcXWx_fns1URnfEK74G3z2KFB-QV_gDtdBK6A), or, Arts Unbound Studio (https://www.artsunbound.org/?fbclid=IwAR0nfo4SFJLBYyeSW0bnIcyfdf2vIhFr0_4hjsoCgOY3m-UwXHvE0waobZE). Arrangements are under the care of Knott's Colonial Funeral Home 2946 South Broad Street, Hamilton, NJ 08610.