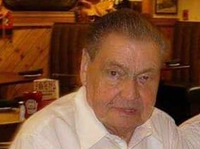 Lothar F. Morgenfruh
Lothar F. Morgenfruh 85 of Mt. Laurel, NJ passed away November 27, 2018 at home.
Mr. Morgenfruh was born in Stuetzerbach, Germany. He Emigrated to the United States January 13, 1961.
He retired as the Chief Glass Blower from Mobil Research Development in Pennington.
He was an active Life member of the German American Society in Yardville.
He enjoyed making stained glass, painting and glass art.
Grandfather of the late Kristin Morgenfruh.
Brother of the late Horst and Bernd Morgenfruh.
Surviving are his wife of 60 years Annemie Nolden Morgenfruh.
5 children and spouses,
Juergen & Karen Morgenfruh of Yardley, PA.
Karin E. Morgenfruh & Jeff Hogan of Hamilton.
Susan M. & Richard Green of Florence, NJ.
John F. Morgenfruh of Mt. Laurel.
Doris E. Morgenfruh of Mansfield Twp. NJ
Grandchildren, Erika & John Rakowski, Megan Sumpman, Jeremie and Chris Green.
Great Grandchildren, Kacie, Hailey, Collin and Lily.
Sister, Doris Striewski of Berlin, Germany.
Sister in law, Olga Morgenfruh of PA.
many nieces and nephews.
The funeral will begin 10:00 am Monday at Knott's Colonial Funeral Home, 2946 South Broad St. Hamilton.
Rev. Ian Hill will conduct Christian Funeral Services at 11:00 am at the funeral home.
Interment will be in Newtown Cemetery for the family.
Relatives and friends may call Sunday 2:00 - 5:00 pm at the funeral home.