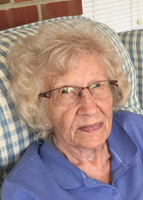 Frances B. Herrity
Frances B. Herrity, 100, of Yardville, NJ passed away October 31, 2018 at home surrounded by her loving family.
Mrs. Herrity was born in East Brunswick, NJ on August 2, 1918, to the late John and Fannie Kempf. In 1944, she moved to Trenton with her late husband Joseph F. Herrity. She was a Yardville resident from 1956 to 1998 when she moved to Whiting, NJ where she lived for 18 years. In 2016, she returned to Yardville, NJ to live with her family.
Fran was a great adventurer who enjoyed traveling throughout the United States. An avid reader, she enjoyed sharing books with friends and family. Fran was also active as a member of the CGL bocce, bowling, and gardening clubs. An avid quilter, she belonged to a CGL Quilting Club in Whiting for many years. In addition to being a proud military spouse, during WWII, she worked as a "Rosie the Riveter" at Eastern Aircraft.
She is survived by her daughter Barbara A. Huffman of Whiting and her son and daughter in law Joseph J. & Randi Herrity of Yardville.
She will be lovingly remembered by her grandchildren, Richard Jones, Andrew Jones and wife Georgene, Kenneth Huffman, Megan Herrity, Joseph J. Herrity Jr., Brandi Gimpel and husband Karl, Ryan Auerbach and husband Andrew, and Brenna Herrity.
She was also the proud great-grandmother of Andrew Jones Jr., Madison Jones, Kaiden Jones, Mia Lupinacci, Evalyn Auerbach, Reagan Auerbach, and Dylon Huffman.
She will also be deeply missed by her beloved dog Stella.
Funeral services will be Saturday November 10, 2018 at 1:00pm at Knott's Colonial Funeral Home, 2946 South Broad St. Hamilton.
Rev. Andrew Straubel, Pastor of the Windsor Chapel will officiate.
Relatives and friends may call 10:00am until 1:00pm Saturday at the funeral home.
In lieu of flowers memorial donations may be made to New Life Animal Rescue (www.newlifeanimalrescue.org).