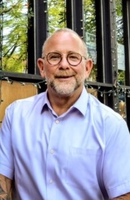 Scott Eric Ruhl
Scott Eric Ruhl, 57 of Chesterfield passed away peacefully August 3, 2017.
Scott was born in Trenton, NJ a graduate of Steinert High School in 1978, and the Culinary Institute of America in 1981.
He was the former owner and operator of the Old Heidelberg Restaurant in Hamilton, he was later employed by Charles Schwab Catering Management in San Francisco, and most recently
as the Host at Marchello's in Bordentown.
Son of the late John P. Ruhl Sr.
Brother of the late John P. Ruhl Jr.
nephew of the late Dorothy A. Ruhl and Kerry Dale Gilbreath
Surviving are his loving and devoted mother,Doll Ann Ruhl.
Sister, Elizabeth Dawn Ruhl.
Aunt, Camille Gilbreath and several cousins.
Scott is also survived by his dear friends, Joseph X. & AnnaMarie Crivelli and daughters Alexa, Gianna and Joey.
Anthony & Debbie Crivelli and daughter Gabriella.
his closest friends LuAnn Christiano, Carrie Puca, Jane Radvanny, Alice Leone, Joan Paul, Linda Luchessi, Michelle Fausti, Debbie Lockwood, Diane Fetah,
Thao Hill, Anthony Lordi, Eric Amiel, Frank Sorrentino and Jim Maher. and so many other beloved friends.
Relatives and friends may call Tuesday 9:00am until 12:00 noon at Knott's Colonial Funeral Home, 2946 South Broad St. Hamilton.
A Celebration of Life will begin at 1:00pm at the Stone Terrace by John Henry's 2275 Kuser Road, Hamilton, NJ
Cremation will be private.