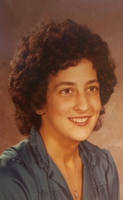 Theresa M. Makrancy
Theresa Marie Makrancy 65 of Hamilton passed away peacefully March 26, 2018 surrounded by loved ones.
Theresa was a graduate of St. Anthony High School. She completed her undergraduate and graduate work at Trenton State College, she has a BA and MA in education.
She formerly taught for the Hamilton Township Board of Education.
Theresa was the owner of Quality Floral and Garden Center.
Daughter of the late Julia Makrancy.
Surviving are her father Louis J. Makrancy Jr.
2 brothers and sisters in law, Louis S. & Loretta Makrancy.
Stephen J. & Mary Makrancy.
Many loving nieces and great nieces and nephews and friends.
The funeral will be 8:30 am Wednesday April 4, 2018 from Knott's Colonial Funeral Home, 2946 South Broad St. Hamilton.
Funeral Mass will be celebrated 11:00am at Saint David the King Roman Catholic Church, 1 New Village Road, Princeton Jct. NJ.
Interment will be in St. Mary's Cemetery, Hamilton.
Relatives and friends are invited to the visitation Tuesday 4:00 - 8:00pm at Knott's Colonial Funeral Home.
Memorial donations may be made to the Prayer Garden at St. David the King Church, 1 New Village Road, Princeton Jct. NJ 08550