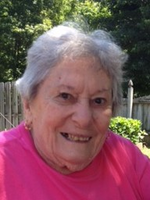 Elizabeth V. Bognar
Elizabeth V. Bognar 93 of Hamilton passed away March 13, 2018 at the home of her daughter with whom she resided surrounded by her loving family.
Mrs. Bognar has been a lifelong area resident. She was a former parishioner of St. Stephen's Church.
Mrs. Bognar formerly worked at the Cigar Factory, and is retired from the State of NJ, Division of Pensions. During WWII, she was a Rosie the Riveter at Eastern Aircraft.
A member of the Ladies Auxiliary of Catholic War Veterans Post 417. She enjoyed traveling the country with her family.
Daughter of the late Michael and Elizabeth Mitro Kerecman.
Wife of the late Joseph G. Bognar.
Mother of the late Joseph S. Bognar Jr.
Sister of the late Margaret Hudzik, Albert, Michael, John and Joseph Kerecman.
Surviving are her son and daughter in law Robert and Loretta Bognar of Hamilton.
Her daughter and son in law Eileen and Gerald Piontek of Hamilton.
Many nieces and nephews.
The Funeral Liturgy will be celebrated 11:00am Saturday at St. Mary the Assumption Byzantine Church.
Interment will follow in St. Mary the Assumption Byzantine Cemetery.
Relatives and friends may call Saturday 8:30 to 10:30am at Knott's Colonial Funeral Home 2946 South Broad St. Hamilton.
Memorial donations may be made to St. Mary the Assumption Byzantine Church, 411 Adeline St. Trenton NJ 08611