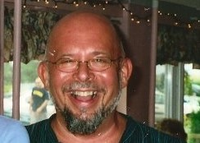 Louis S. Revesz
Louis S. Revesz 64 of New Hope, PA passed away March 2, 2018.
Mr. Revesz had a passion for the Arts, especially as a writer.
He wrote and performed in productions at the McCarter Theater and the Mill Hill Playhouse (Where he met his wife)
Later in life he coordinated marketing of medications, interpreting from physicians to the public.
He was one of the original founding members of the Phoenix Rising Yoga Studio.
He spent the last four years caring for his wife.
Son of the late Louis & Mary (Spiess) Revesz
Surviving are his wife Pamela Ritterbush Revesz
Son Stefan Revesz of Ewing.
Son and daughter in law Eric & Kimberly Revesz of Ewing.
Grandson William Revesz.
Sister Cynthia Revesz of Manhattan, NY.
"Reflections" will be private for the family
Memorial donations may be made to McCarter Theater, 91 University Place, Princeton NJ 08540 or to Kimmel Cancer Center at Jefferson, 233 South 10th St. Philadelphia PA 19107
Arrangement are by Knott's Colonial Funeral Home, Hamilton NJ