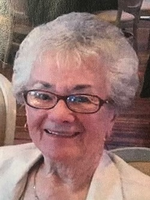 Magdalena Wiener
Magdalena Wiener 86, of Toms River passed away February 16, 2018.
Mrs. Wiener immigrated to the United States in 1952 from Austria, and was a Hamilton resident most of her life before retiring to Toms River.
She was a life member of the German American Society.
Daughter of the late Nikolaus & Elisabeth Mueller.
Wife of the late Paul Wiener.
Surviving are her 3 children, Herb & Patricia Wiener of Waretown, NJ.
Ingrid & Eric Johnson of Delray Beach, Florida.
Rick & Connie Wiener of Toms River, NJ.
6 grandchildren, Christopher (Kim) Wiener, Jason (Susan) Wiener, Nicholas Rossi, Katie (Roger) Muth, Veronica Rossi and Eric D'Arcy.
5 great grandchildren, Madison, Sienna, Avery, Jason and Julia.
Her sister, Anne Gauss of Hamilton.
Sister in law, Hilda (Mike) Bass of Lebanan, PA.
Many nieces, Nephews and cousins.
The funeral will be 8:00am Wednesday from Knott's Colonial Funeral Home 2946 South Broad St. Hamilton.
Funeral Mass will be celebrated 9:30am at St. Raphael Church 3500 South Broad St. Hamilton.
Interment will be in Our Lady of Lourdes Cemetery.
Relatives and friends may call Tuesday 5:00 - 8:00pm at the funeral home.
In lieu of flowers memorial donations may be made to Threerangersfoundation.org or to St. Jude Childrens Research Hospital, 501 St. Jude Place, Memphis, TN 37105
Stjude.org