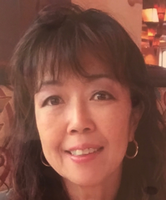 Chong Mi Yoon
Chong Mi Yoon
Chong Mi Yoon 57 of Mt. Holly passed away January 26, 2018.
Born in Seoul, South Korea she was an area resident most of her life.
She loved to Sing and cook, and she loved people.
Daughter of the late Byung Doo Kim.
Sister of the late Sung Man Kim.
Surviving are her husband Hyun Sung Yoon.
Daughter and son in law Jessica Y. & Will J. Simmons of Bridgewater, NJ.
Her granddaughter Brooke Simmons.
Her mother Kyung Hee Park.
2 sisters Chong Hae Pak.
Chong Shim Shin.
Brother Sung Min Kim. Many nieces and nephews.
Relatives and friends may call Tuesday 6:00 – 8:00pm at Knott's Colonial Funeral Home, 2946 So Broad St. Hamilton.
Prayer services will be 6:15 – 7:00pm Tuesday