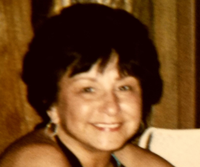 Geraldine Gerri Plumeri
Geraldine (Gerri) Plumeri, 73 sadly passed January 4, 2018 at RWJ in Hamilton.
She was born in Trenton on June 21, 1944. She attended Cathedral High School and went on to work for the State of NJ until retiring in 2005.
Not being a big fan of her full name, Geraldine, she was commonly know as Gerri and/or Kay. She was HUGE lover of dancing, socializing, and visiting live local bands.
She enjoyed attending craft show and festivals. She had a fond love of butterflies and lights houses and always found comfort in visiting places such as, Sayen Gardens, The Marina MC park , and the Shore.
Gerri, daughter to the late Micheal and Marie Kadar, is survived by her devoted daughter Shari Plumeri and loving boyfriend Steve Fitch and her second daughter, the love of our lives, our puppy Bella.
Aunt Doris Radice, her daughter Chris and husband Keel Costantini, Sons Bobby and wife Suzi Radice, Mark Radice and girlfriend Carlice Cardinale.
Aunt Doris's grandchildren, Lauren Costantini, Meghan Costantini Morris and her husband Shawn with their daughter Lucy Costantini Morris
Bobby Radice, Heather Radice Breza and her husband Jeff
Nikki Radice, Amanda Radice, Mark Jr and Zachary Radice
Aunt Marie Salvatore
Aunt Edie Avanzato, son Tommy Avanzato and wife Diane
Thommy Radice and wife Kuu`ipo
Guy Radice
Joseph A. Radice Jr., sons Joseph Radice III and Chris Radice with wife Bridget
Billy Radice and wife Julia
Close friends Marie Sereni (God Mother to Shari) and Patricia Hargraves
and many more Friends and Relatives
Gerri will always be know by many, as the social butterfly and little spitfire, with a Huge Heart and an Amazing Personality
Funeral service 10:00am Tuesday at Knott's Colonial Funeral Home 2946 So Broad St. Hamilton
Entombment will be at Greenwood Cemetery
Calling hours will be be Monday 6:00 – 9:00pm at the funeral home