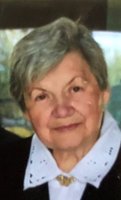 Elizabeth Schoen
Elizabeth Schoen 82 of Hamilton passed away peacefully September 30, 2017 at home.
Mrs. Schoen was a parishioner of St. Gregory the Great Church, she was formerly employed at New Jersey Bell Telephone and was then the co owner with her late husband of
Garden State Tire & Battery in Hamilton.
Elizabeth was a loving and caring caregiver to her family and her grandchildren.
Daughter of the late Adam & Katharina Kuppek
Wife of the late Joseph Schoen.
Surviving are her 4 sons,
Robert M. Schoen.
Joseph J. & Dawn Schoen.
Richard A. & Nicole Schoen.
Edmund & Nancy Schoen.
8 Grandchildren, Erik, Adam, Katrina, Jenna, Patrick, Izabelle, Layla and Drew.
Her Aunt, Rosina Schneider.
Her Brother, Anton & Patricia Kuppek
Sister in law, Katherine Schen.
Close friends Peter and Marion Schpildener. Many Nieces, nephews, cousins and Godchildren.
The funeral will be 8:30am Friday from Knott's Colonial Funeral Home, 2946 South Broad St. Hamilton.
Funeral Mass will be celebrated 10:00am at St. Gregory the Great Church 4620 Nottingham Way, Hamilton Square.
Interment will be in Our Lady of Lourdes Cemetery.
Relatives and friends may call Thursday 6:00 - 9:00 pm at the funeral home.
Memorial donations may be made to the American Red Cross 1-800-733-2767, American Red Cross, P O Box 37839, Boone, IA 560037-0839