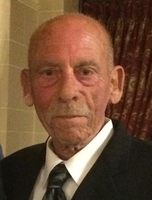 Gerald Douglas "Doug" Muraglia
Gerald "Doug" Muraglia – Brick Twp.
Gerald "Doug" Muraglia, 65 of Toms River passed away on Wednesday, August 2nd. Born in Cherry Point, North Carolina, he grew up in Toms River, before moving to Hamilton Twp. to start his family, and eventually returned to Toms River in 2017. Doug, as he was known to family and friends, was a member of Our Lady of Sorrows RC Church. He retired as an investigator with the Division of Motor Vehicles, and was past President of the American Legion Riders Post 455. Doug greatly enjoyed riding his motorcycles, gardening, fishing, and crabbing, but most of all spending time with his grandsons.
Son of the late Gerald A. and Lillian P. (Andrews) Muraglia, and husband of the late June R. (Mastrangelo) Muraglia, he is survived by his son and daughter-in-law Douglas A. and Farah (Lukowitz) Muraglia of Toms River, three grandsons Mason, Luke, and Aiden, his sister Debra and husband Robbie McCotter, brother Dennis "Jay" and Mary Muraglia, his aunt Marilyn "Ginny" Long, his uncle Bill Andrews, sister-in-law Carol Bogdol, brother-in-law Ralph and Rose Mastrangelo, nieces Carly Schneider, Chelsey McCotter, Deseree Muraglia, and Crystal Mastrangelo, nephews Joseph and John Mastrangelo, his closest friends Harold and Roberta Francis, and Christopher and Ola Biele, and many cousins and friends.
Relatives and friends may call on Sunday, August 6 from 12:00pm-2:00pm and 4:00pm-6:00pm at Knott's Colonial Funeral Home 2946 South Broad Street, Hamilton 08610. Mass of Christian Burial will be held on Monday August 7 at 11:00am at Our Lady of Sorrows Church 3816 E. State St. Ext., Hamilton. There will be no calling hours at the funeral home on Monday morning. Interment will take place at St. Mary's Cemetery 1200 Cedar Lane, Hamilton. In lieu of flowers, memorial contributions may be made to the Susan G. Komen foundation in the memory of June Rose Muraglia (Komen.org).