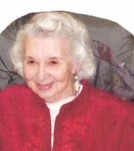 Carolyn Mary Goldenbaum
Carolyn Mary Goldenbaum, 98, wife of the late Marvin H. Goldenbaum of Onancock, Virginia passed away Sunday July 9, 2017.
A native of Bordentown, NJ she resided many years in the Whitehorse section of Hamilton before moving to Virginia in 2005.
She is retired from ACME Markets and was a member of the Pearson Memorial United Methodist Church.
Daughter of the late Charles Henry Klinger and Matilda Erdman Klinger.
Wife of the late Marvin H. Goldenbaum
Mother of the late Linda Jo Tessein.
Surviving are 2 children, Richard D. Goldenbaum and his wife Peggy Sue of Hamilton and Marlene A. Donnell and her husband Charles of Onancock, VA.
Nine Grandchildren, Twenty Great grandchildren, Four Great great grandchildren.
Funeral services will be Saturday 10:00am at Knott's Colonial Funeral Home 2946 So Broad St. Hamilton.
Rev. Michael Reid will officiate
Interment will be in Colonial Memorial Park
Relatives and friends may call 9:00am until services at the funeral home.
Memorials may be made to Riverside Shore Rehabilitation Center Activities Department, 26181 Parksley Road, Parksley, VA 23421