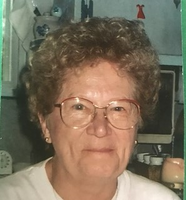 Dolores Schwartz
Dolores Schwartz, 91, of Hamilton, passed away on Saturday, July 8th surrounded by her loving family. Born in Trenton, she was an area resident all her life. Dolores was a member of St. Raphael's – Holy Angels Parish, The Altar Rosary Society, and The T.N.T. Ladies Club. She was employed by Trenton Banking at Warren and State Sts, and retired from Core States at Broad and Liberty Sts.
Wife of the late Frank Schwartz, Jr., her husband of 63 years, Daughter of the late Walter and Minnie Witucki, sister of the late Walter Witucki.
She is survived by her Son and Daughter-in-Law Frank & Juliane Schwartz, of Metuchen, NJ, Son and Daughter-in-Law Walter & Joan Schwartz of Lake Mary, FL, Daughter Doreen Meheski of Hamilton, and Son and Daughter-in-Law Dennis & Ildi Schwartz of Morrisville, PA, 10 Grandchildren; Frank and wife Cassie Schwartz, Stephen Schwartz, Maureen and husband Matt Shaw, Katie and husband Tim Hawxwell, Mary Susan and husband Sean Williams, Caroline and husband Glen Baurhyte, John Meheski, Jason and wife Maria Meheski, Samantha Schwartz and fiancé Robert Baldwin, and Mary and husband Michael Laughlin, 19 Great-Grandchildren, and many nieces, and nephews and Brother-in-Law Nick Schwartz of Hamilton. She will also be missed by her canine companions Baby, Lexi and Chip.
Mass of Christian Burial will be held on Friday, July 14 at 10:00am at St. Vincent de Paul Church, 555 Yardville Allentown Rd, Hamilton 08620. Relatives and friends may call on Thursday, July 13 from 6:00pm-9:00pm, and again on Friday morning from 8:30-9:30am at Knott's Colonial Funeral Home, 2946 South Broad Street, Hamilton. Interment will be in Holy Cross Cemetery, Hamilton. In lieu of flowers, memorial contributions may be made to The Visitation Home, P.O. Box 11242, Hamilton, NJ 08620.