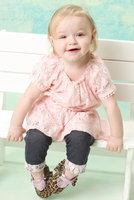 Alivia Madison Sawicki
Alivia Madison Sawicki, of Ewing, passed away on Friday, June 16th. Born on November 3rd, 2015 to her parents Christopher and Christina (Johnston) Sawicki, Alivia was a very loving, bubbly, happy, cuddly, and sassy little girl. She loved to dance, and always lit up the room wherever she went. She loved being by the water, especially the pool, and she loved her binky, and her blankey.
Pre-deceased by her Great Pop Pop Stephen Homa Jr., she is survived by her parents Chris and Christina (Johnston) Sawicki, her older brother Austin Sawicki, maternal grandparents Christine Whitman, and John Johnston Jr. (Brenda), her paternal grandmother Dot Homa, maternal great grandparents John (Sr.) and Kathy Johnston, paternal great grandparents Sally Homa and Theresa Sawicki, paternal uncles and aunts Shawn Sawicki (Laura), Mark Sawicki (Samantha), Brandon Sawicki (Stephanie), and Kyle Homa, cousins Rachel, Danielle, Riley, and Luke.
Calling Hours will be held on Friday, June 23rd from 6:00pm-8:00pm, with a service at 8:00pm at Knott's Colonial Funeral Home 2946 South Broad Street, Hamilton, 08610.