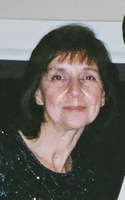 Shirley A. Gabor
Shirley A, Gabor 68 of Florence, NJ passed away June 12, 2017.
Shirley was born in Trenton and was a Hamilton resident many years before moving to Florence.
A graduate of Hamilton High School West.
She was formerly employed at Helene Fuld Medical Center, Mercer County Prosecutors Office and is retired from Family Guidance Center.
She love animals, gardening, art and sketching, Disney and was a Civil War buff.
Daughter of the late George and Dorothy Massina
Sister of the late Dorothea Massina.
Surviving are her husband John J. Gabor
Daughter and son in law Maria Abbott and Jerry Martini.
Brother and sister in law George and Jackie Massina
two nieces Jillian and Patricia Conti
several cousins.
The funeral will begin 9:00am Friday at Knott's Colonial Funeral Home 2946 South Broad St. Hamilton
Services will be 10:00am at the funeral home.
Interment will be in Riverview Cemetery.
Relatives and friends may call Thursday 6:00 - 9:00pm at the funeral home.
Memorial Donations may be made to the Cancer Institute of New Jersey, 2575 Klockner Road, Hamilton NJ 08690